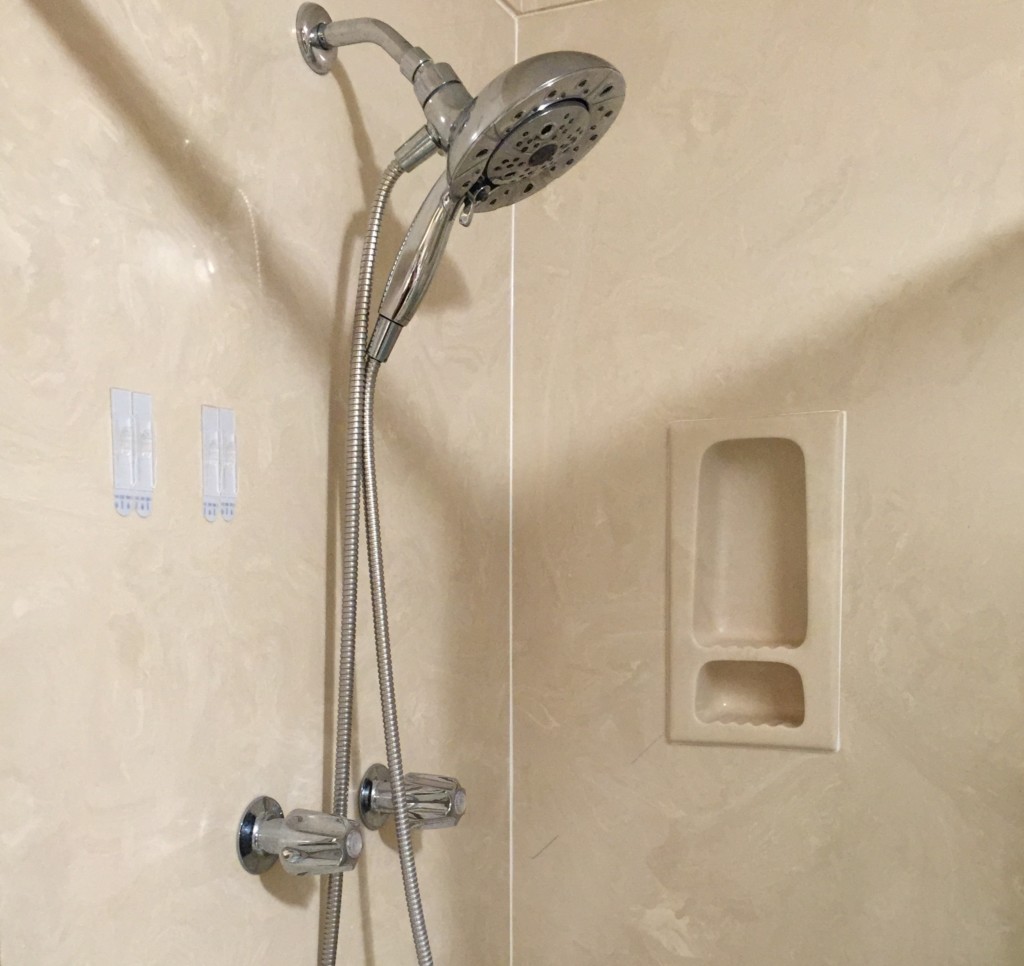 I think I probably have one of the most boring showers that I've ever seen. It has absolutely no storage area for body wash, razors, shaving cream or body scrubs.  It has a built in area for one bottle of shampoo and one bar of soap.  Where will I put all those other products? Am I the only one that cares if they have an organized shower? I hope not! If you need some organization in your shower and you are also working with a budget….keep reading. This one will cost you around $30.00.
On my search for some organization products to put in a shower, I found that most organizers had suction cups which I'm not a fan of. What am I a fan of? Command strips! Why? Because they are easy to attach and if you don't like where they're at, you can move them. I have never had any of these command products fall off the wall, I have had suction cup organizers that fall off with the weight of these products. I buy larger bottles of shampoo and I want them to stay put!




I use the large caddies to hold my body wash, shampoo, face wash and conditioner. I also found a small razor caddy. It's probably my favorite of all the caddies that I purchased. I also used two command strip towel hangers to hang my shower poufs. I would recommend buying only the command products specific for the shower and bath.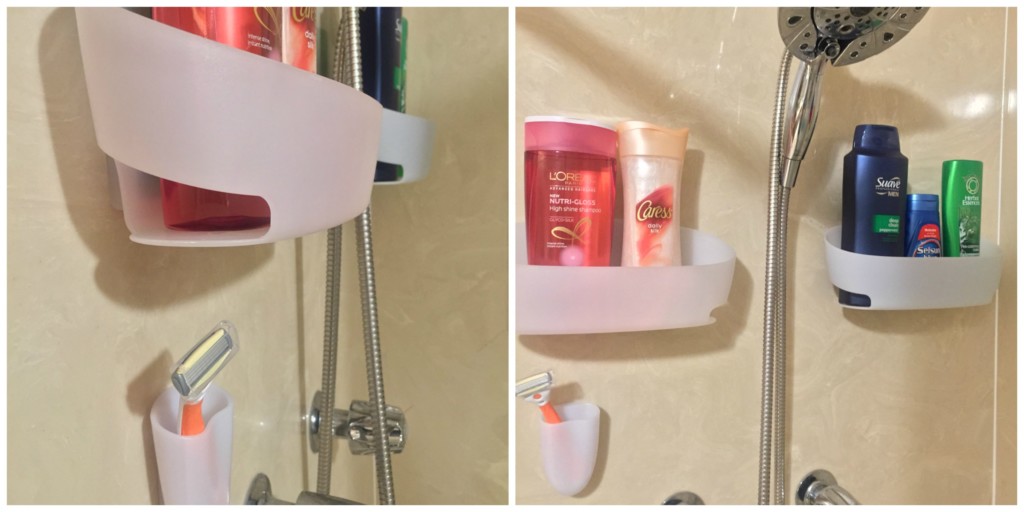 Before, I would just sit things down in the bottom of the shower, my shower would always look cluttered. I hate that kind of clutter! Now everything is at eye level and I can see what I'm running out of. Plus, it's organized and easy to clean. I love it!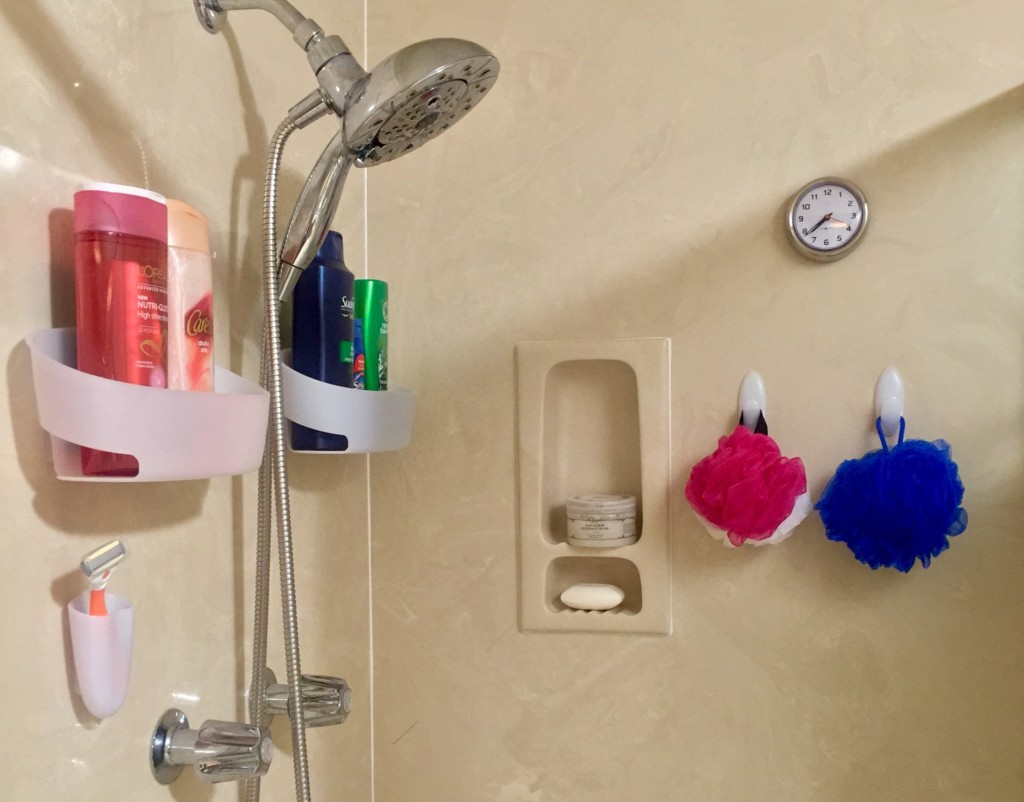 I guess you noticed that clock on the wall………I just happened to see that when I was shopping and saw the words water resistant.…really? I don't feel like it's necessary to have a clock in your shower, but why not? I'm half asleep most mornings and need to keep track of time and stay on schedule.




I purchased all these products at Bed Bath & Beyond. This whole project cost less than $30.00…of course that doesn't include the clock. I will leave a link to all the products below. Have fun organizing.
Get 20% off one item on the Bed Bath & Beyond website and you have organization for less than $30.00
$9.99 LARGE CADDY
http://www.bedbathandbeyond.com/store/product/3m-command-trade-caddy-large-bath-shower-caddy/1042443810?skuId=42443810&ioid=HH000032&mcid=PS_googlepla_nonbrand_bath_&adpos=1o1&creative=43742625589&device=c&matchtype=&network=g&product_id=42443810&gclid=CMKD3rj9jM8CFVEvgQodmhICpw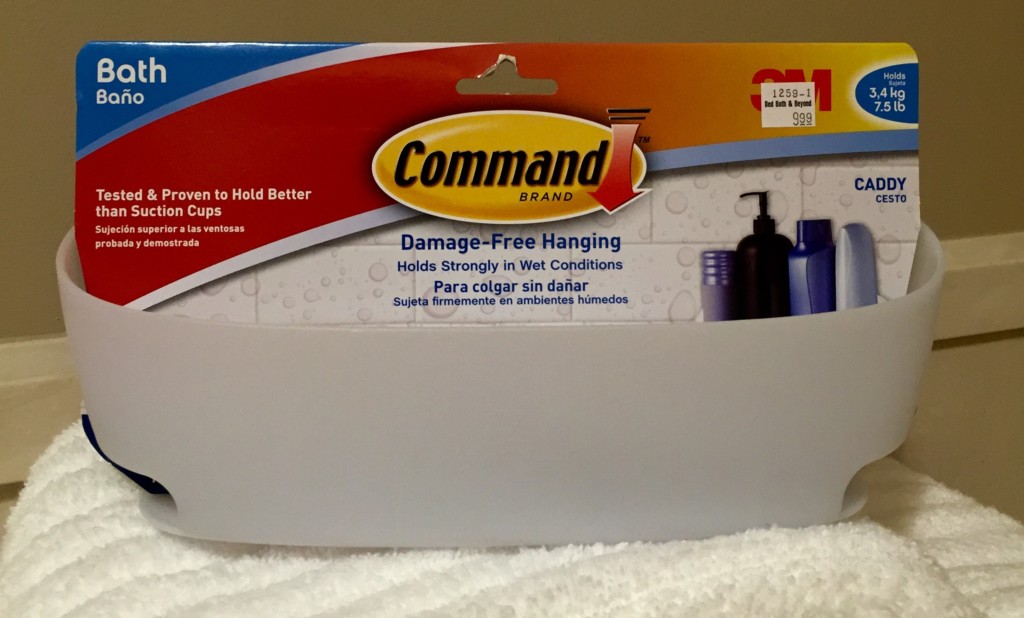 $5.99 RAZOR CADDY
http://www.bedbathandbeyond.com/store/product/3m-command-razor-holder/1042443834?poc=219329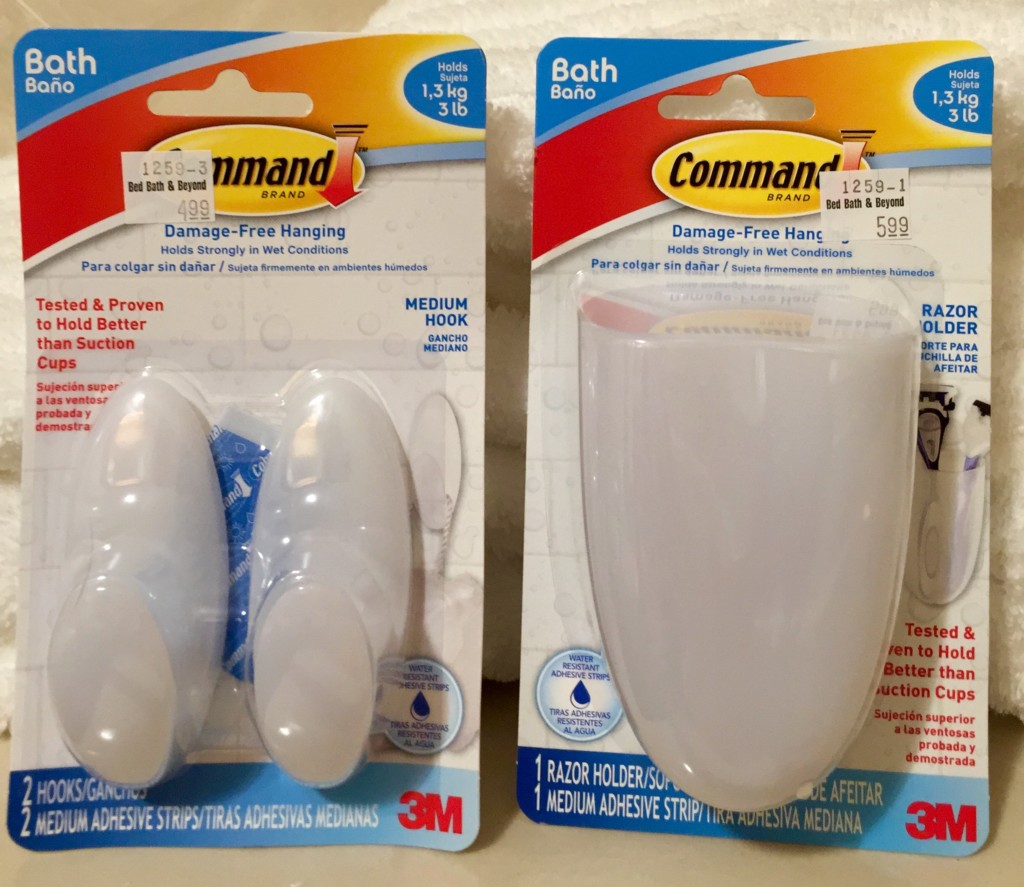 $4.99 MEDIUM HOOK FOR TOWELS
http://www.bedbathandbeyond.com/store/product/3m-command-2-pack-medium-bath-towel-hook/1042443865?poc=219329
$29.99 CLOCK
http://www.bedbathandbeyond.com/store/product/la-crosse-technology-water-resistant-atomic-analog-clock-with-digital-temperature-display/1040536170?Keyword=water+resistant+clock
Owl talk to y'all later!