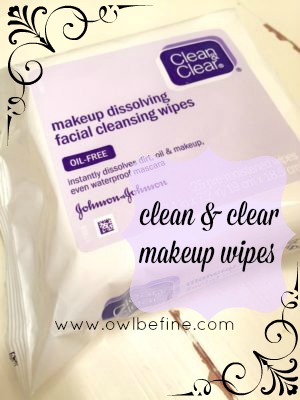 For several years now I have been using and repurchasing these wipes. Let me start by saying that I have very sensitive dry eyes. Most wipes that I have tried will make my eyes burn and sting. That is not the case with these wipes and my eye sensitivity.
First, let me give you the all the details. The pack of wipes includes 25 wipes and they are a generous size so you can quickly and easily cleanse you whole face. Each wipe is super soft and moist. Wipes are oil free and have a fresh clean scent. The face products I use are long wearing and I have no trouble wiping everything off. After cleansing my face I do notice a sort of lotion feel that is left behind, but I have very dry skin so I don't mind that. Speaking of dry skin……these wipes do not irritate my dry skin and maybe that's why I love them so much because they feel very moisturizing all over my face.
Another great point is that from first to last wipe they remain moist. I have used other wipes that would dry out before I got to the last few in the pack. Give these a try. I would recommend these to anyone on the search for their "holy grail" wipe. I purchase mine at Walgreens but I have seen them in other drugstores and Ulta. Prices vary from $4.99 to $7.99.
Owl talk to y'all later!